On Friday, November 20th at 9pm eastern time, HGTV launched its holiday tv special programming where I was able to partake in a fun crafting competition for holiday enthusiasts. This show was called HGTV's "Holiday Crafters Gone Wild!" Here are all the juicy details…
I randomly got an email from a casting company asking if I was a holiday enthusiast and would want to partake in a show on HGTV – they saw my work and profile on instagram and thought I would be a great fit! I was so flattered as I always have a "keep your head down and do the work and hope that great things come of it" so this was truly one of those moments that validates my passion for what I do. I'm not a "crafter" per say as my job mostly entails creating conceptual designs to be executed by a team of florists and decorators but YES, I definitely take the driver's seat at home in decorating and the holidays are no exception. I was immediately on board to join this amazing cast of duo teams (4 teams in total including ours) to compete in a fun holiday crafting competition. The sheer act of creating was always my mo-jo, I usually do mostly concept design as I produce events with a team of vendors but getting my hands dirty and escaping to a holiday fantasy land was definitely a highlight for me. Next, I needed to pick a teammate!
Some of my holiday home décor
Some of my holiday event décor back when I fully designed & produced all of my events from my Fisher Island Flower Studio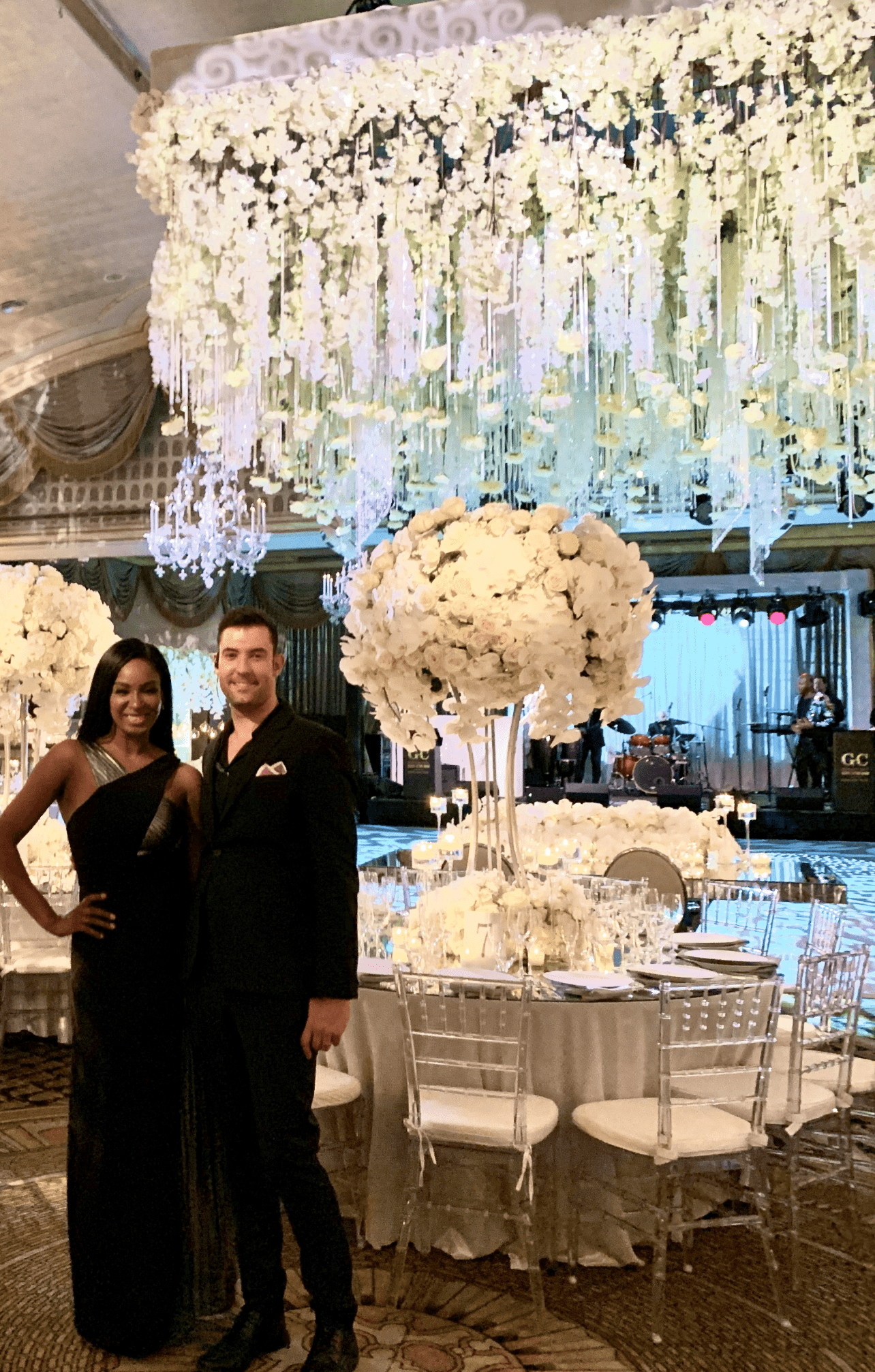 I had to quickly find my teammate for the holiday crafting competition and immediately thought of a vendor turned friend of mine that I've always admired named Garrett Arnold. We met in 2018 while doing a wedding production together. We gelled immediately – he came from a theater background and at the time worked as the creative lighting director at the Breakers Palm Beach. We understood design and the need to make each event an experience for the guest. We both interpreted our events as true "productions" and how to critical it is to have a meticulous "run-of-show" to ensure sequential effects. I knew that we would become fast friends. The main thing I love about our relationship is that we have no ego when working together and also that we love to laugh–it came so naturally and made our long work hours setting up and breaking down events tick so much faster! We had to do an on-screen zoom virtual interview with the show producers and they loved our natural chemistry – we would laugh so hard throughout the interview questions that we at times were told to "simmer down" by the producers…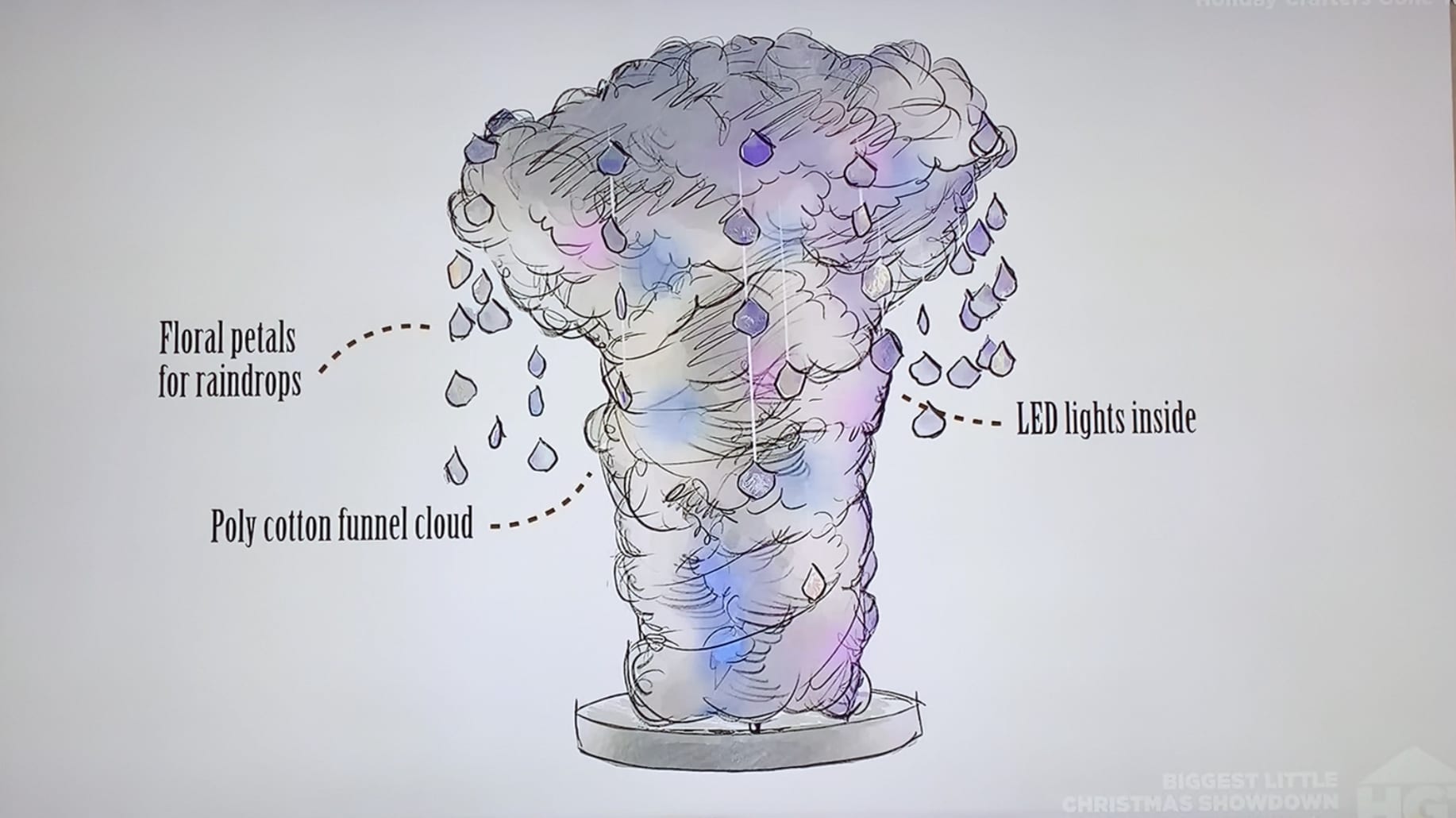 Illustration of our Storm Concept
Challenge 1 was designing a unique holiday themed centerpiece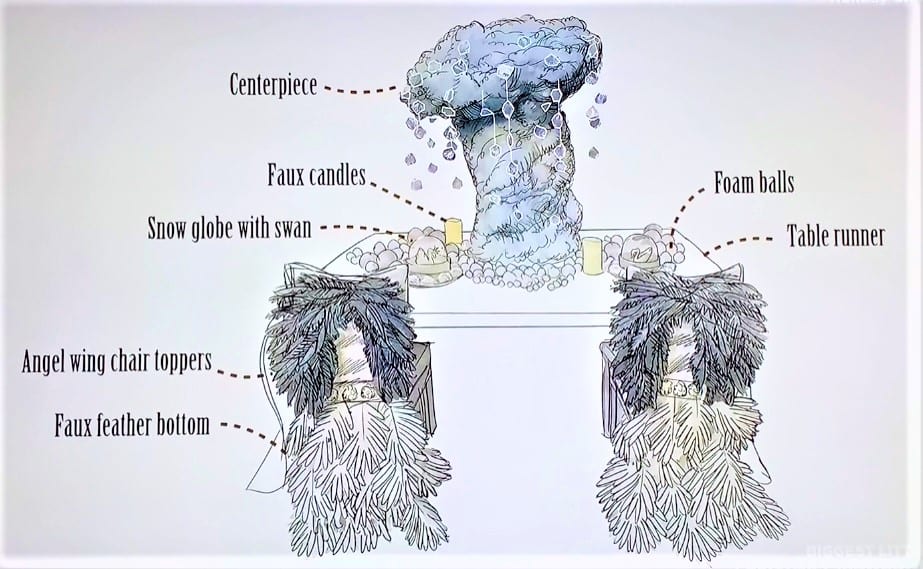 Illustration of our Tablescape Concept
Challenge 2 was adding a full tablescape to compliment the centerpiece from challenge 1
What I loved most about the show is concept was that its creation was based on giving America a two-hour, light-hearted, festive escape given the lengthy pandemic nationwide situation. The network wanted to bring fun and joy and the art of possibilities through crafting ideas and social comradery as a prelude to the holidays. It was such an honor that they thought that we could help facilitate this emotion. We laughed the entire time (well except for probably the last countdown hour of crafting when things got "real" under pressure lol!)
TESTING, TESTING, TESTING!
After agreeing to doing the show, I immediately came down from my happy high and quickly realized that we were still in a pandemic and started to worry about shooting in a safe environment but before I could even mention this concern, we were provided with strict guidelines that included quarantine, multiple rounds of tests and face masking rules to be enforced prior during and after shooting. I knew right there and then that we would all be in the safest hands and we were.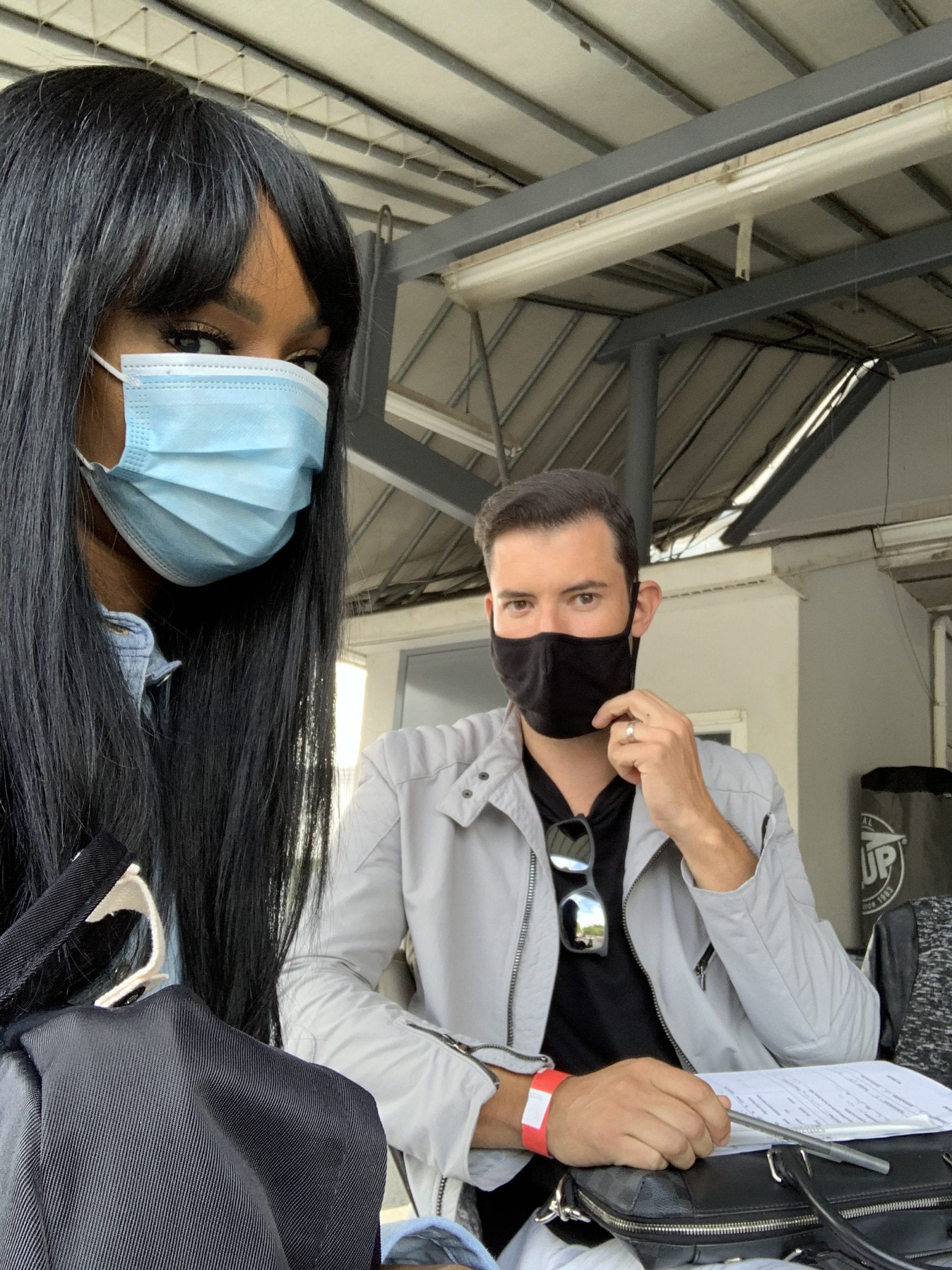 Waiting to take another Covid Test!!!
To say we weren't a little intimidated by the other teams would be a lie. The first person that we quickly recognized was Sam Raimondi aka "the nail gun / woodworker QUEEN" @diyhuntress who Garrett had been following for years and so we quickly turned to each other and knew we were in for a challenge. She can renovate an entire room over the span of a weekend with raw wood materials. Then came the "Colorist" Charlotte Martin Smith @atcharlotteshouse who is a trail blazer in mixing colors and creating the most amazing and unique dying patterns on ANY surface – did I mention that these two ladies were teammates!!!!! Oh, and don't forget the crafty duo Mariana Leung @msfaboulusnyc and Terry Rollyson @terryrollyson who we quickly found out how savvy they were with a sewing machine and glitter. Lastly came "the magicians", wife and husband team Mario the Magician @mariothemagician and @katierosamarchese who always pulled amazing tricks out of their magician hat! Prior to partaking in this show, I hadn't been inspired by much in terms of creativity (given the pandemic) so this gave me a huge bolt of joy to know that I was selected to be part of such a talented group of creatives to come up with some cool creations for America!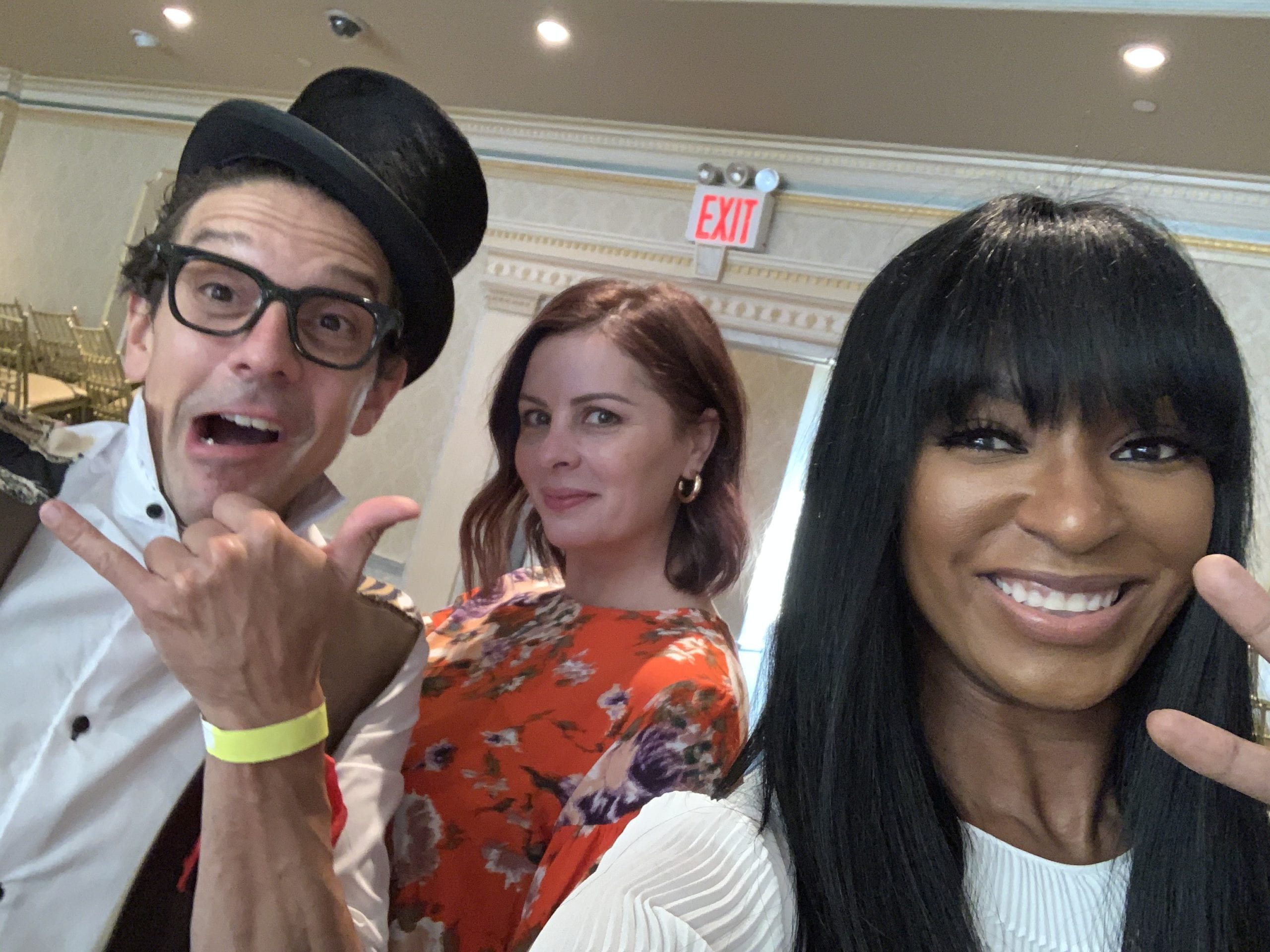 Quick snap with Mario the Magician and his super talented wife Katie
We all simultaneously almost fainted when we saw a decked out sleigh miraculously rise from the center of the room with the one and only Jay Manuel from America's Next Top Model at the helm as the show host. He was decked out in the most fantastic fashion ensemble and when he uttered "Welcome to the Workshop Crafters", I knew right there and then that it was going to be quite the ride…and it was! Our HGTV judges Kim Myles(Designer) and Mikie Russo (Event Planner) truly balanced the show's tone with fun and witty commentaries yet
also gave professional feedback which was embraced by each team. The vibe on set was always cheery and encouraging and that made it even more comfortable for all of us given the pressure of the ticking clock!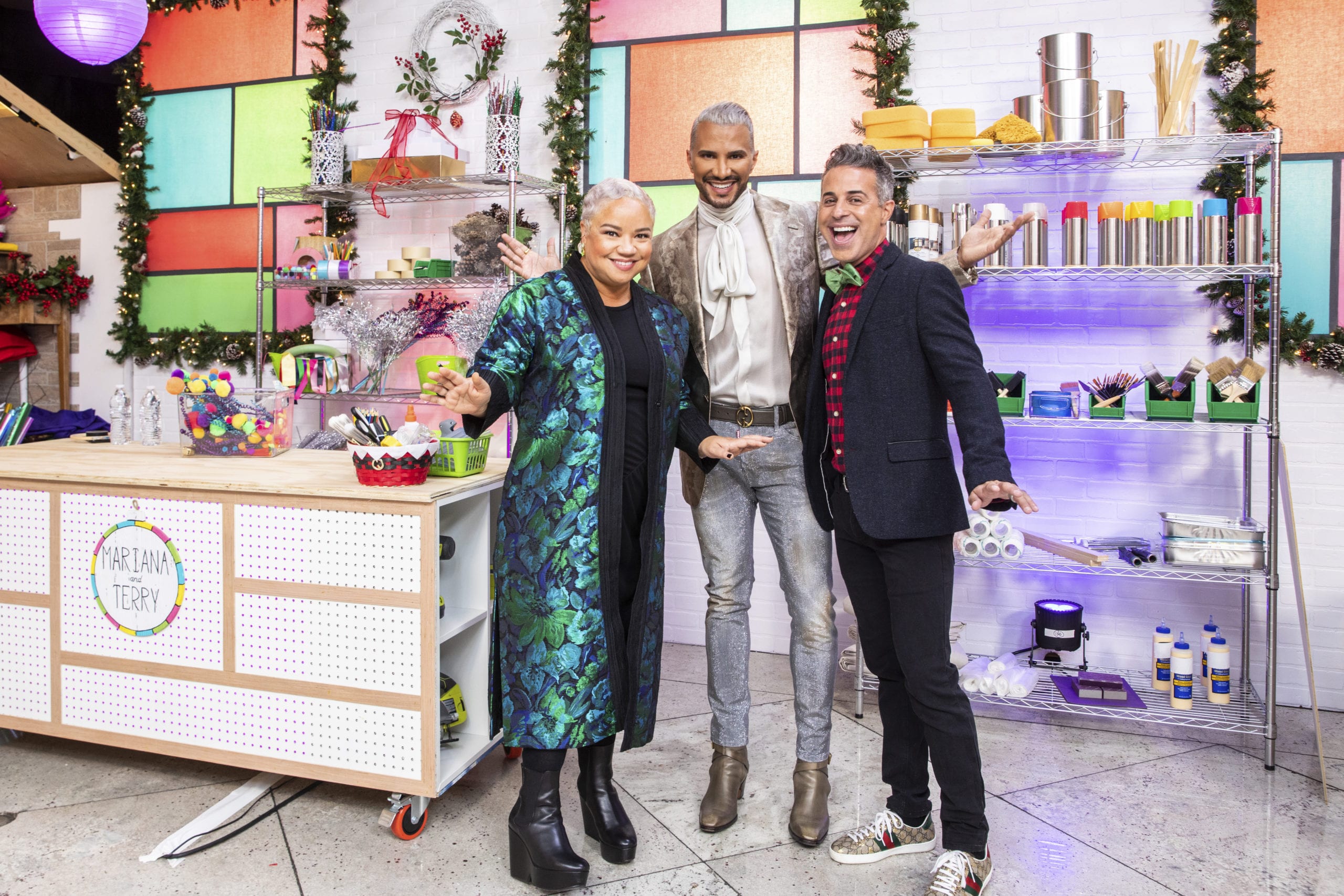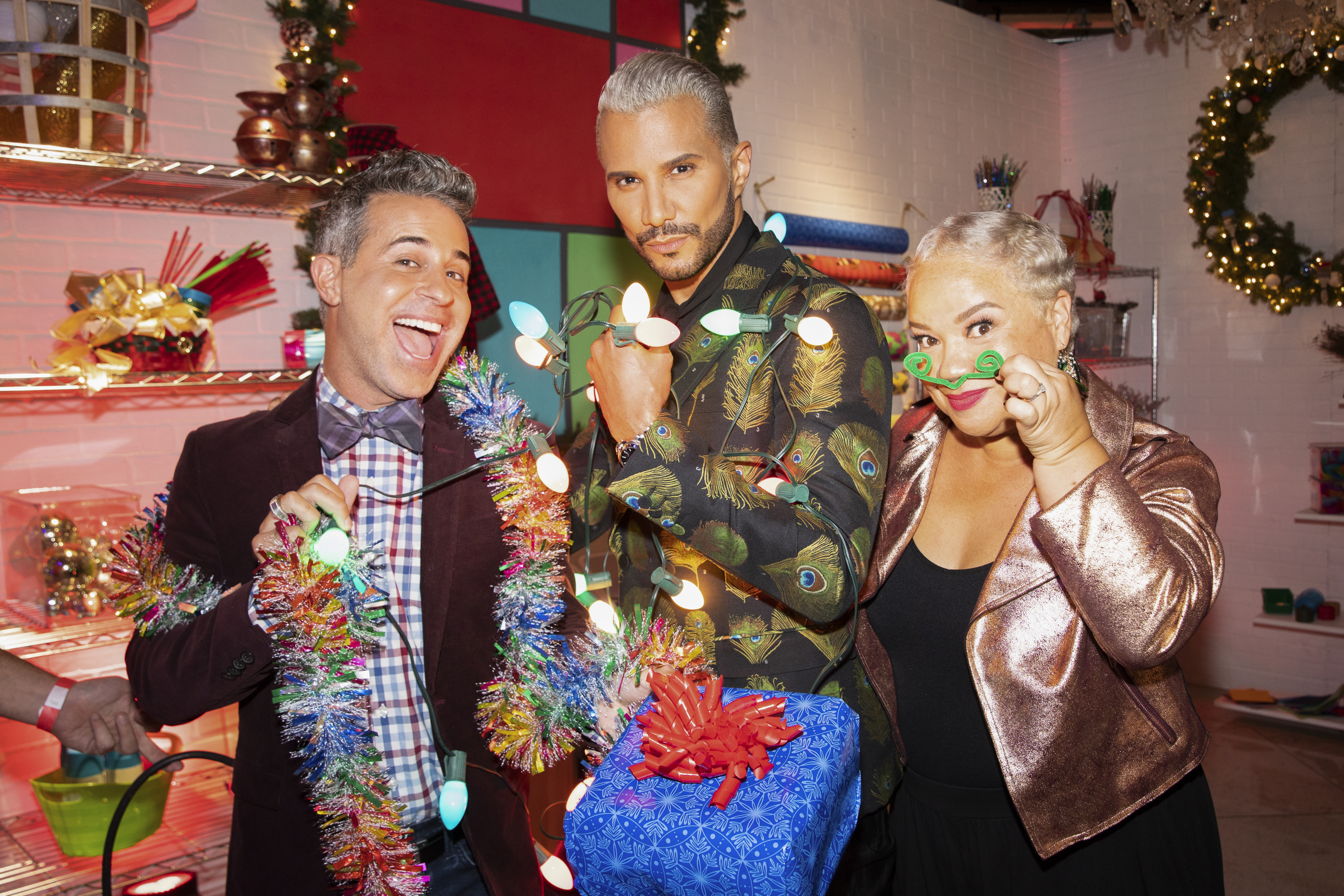 Our amazing Host & judges!
Who better to judge this wild competition then the fashion guru himself, Jay Manuel
If you watched the show, you already know the outcome. My main goal in doing the competition was to first FINISH – I've always taken pride at the ability to perform under pressure and to complete the task no matter what and so this was no exception! As fun as it was, I truly wanted to be a role model and inspiration for anyone at home watching. It's a very vulnerable place to put oneself but it's the type of step you need to take to grow, to gain confidence in yourself and your abilities. I knew going in to this competition that I would not be the best "hands-on crafter" but that it really didn't matter as I had the privilege of sharing some key leadership elements in the process: teambuilding, concept creation with and the ability to pivot and perform in an unknown environment using surrounding materials to create within a limited time frame. The great news is that we made it out alive and would do it all over again if asked…now on to my next creative journey – Stay tuned!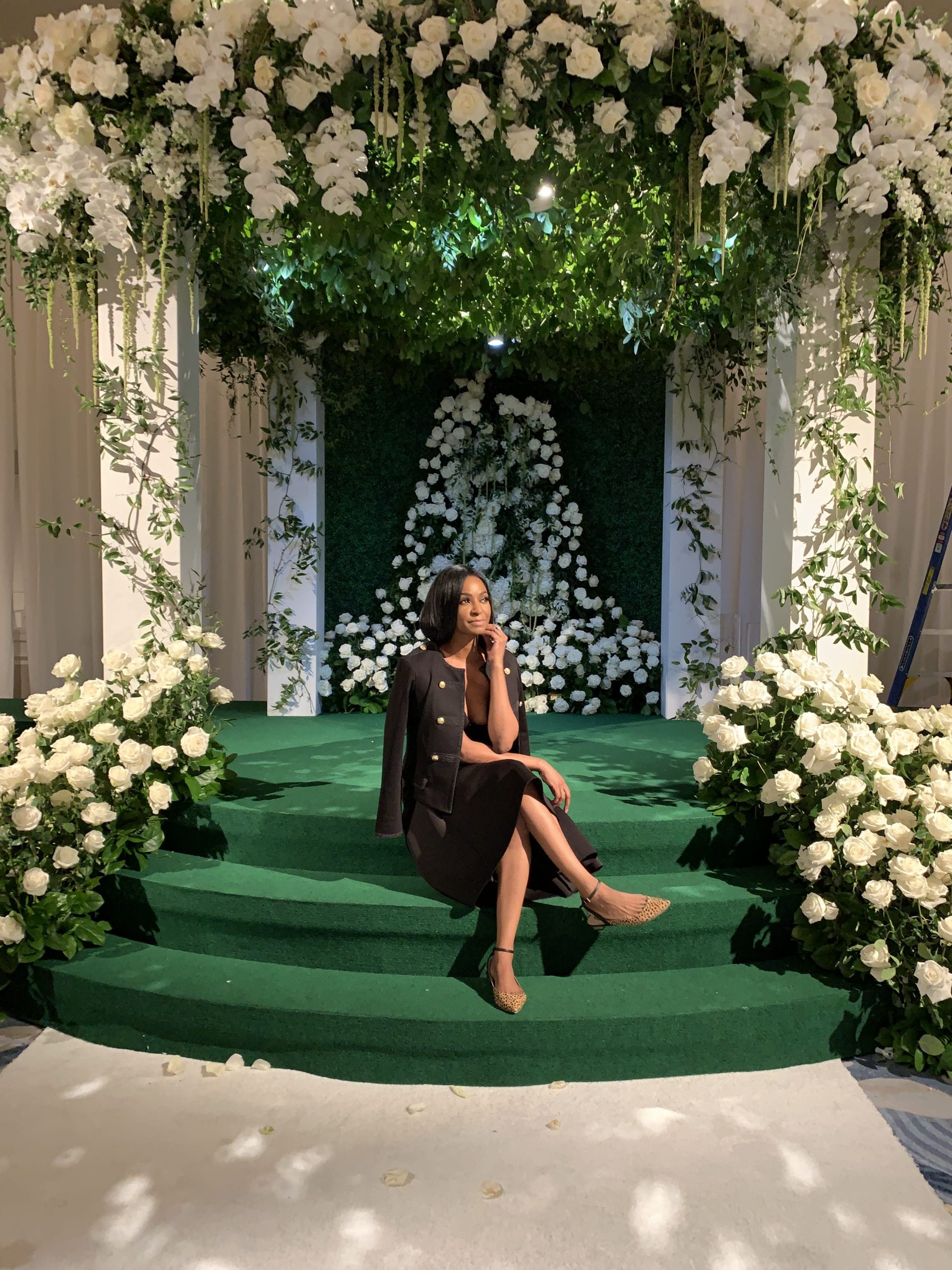 Always dreaming of somethin'!
To Love, To Life L'Chaim! Guerdy